Confuci.us Web Hosting
A Server with Integrity
Hosting your domain on Confuci.us will give your customers unparalleled bandwidth and performance and give you full control over all of the many features that come with your account.  
Daily, Weekly & Monthly Backups
CPanel
cPanel for website owners provides the world's most familiar user interfaces for managing a website. With cPanel software, website owners can easily manage their email accounts, databases, applications, security, FTP, and control every aspect of their websites.

Try a "cPanel / WHM" Demo Now
Website Creation and Development
I've been building websites for 15 year and have gone though all sorts of trends favored by webmasters in the journey. In recent years I have developed several hundred WordPress sites. I now have a strong focus on WordPress as sort of the perfect CMS (Content Management System) as it works exceedingly well with search engines and the ubiquitous social media world. My clients have come to love it because I am able to train them in how to manage their own site in less than an hour after the site is built out… 
Regular and Automatic Updates
No respectable server loads the newest version of software until it is well out of Beta and fully functional and documented. Confuci.us stays completely current in a responsible way with the latest upgrades to apps and services rolled out as soon as they've been well vetted.
99.3% Server Up-Time
Confuci.us has been on-line and fully functional over 99% of the time since coming on-line in its current incarnation in 2007. All server maintenance is done in such a way as to require only rapid restarts and scheduled for the slowest time of the day. Server reboot times are under 2 minutes.
Responsive Support
Confuci.us is owned and run by Gill Brooks who is smart enough to know and maintain a small army of young professional Über Geeks, on site 24/7.
Web Site Development
I've been building websites since 1994. I have developed perhaps 50 or so WordPress sites a year in the last decade and have a strong focus on WordPress as sort of the perfect CMS (Content Management System) It works exceedingly well with search engines and the social media world. I am able to train most clients in less than an hour to manage their own sites.
In the last quarter of 2015 I had installed on the server a BSF -Barracuda Spam Firewall. This is a piece of hardware that has been removing spam. Most people are reporting that it has reduced the volume 95+% and several say the amount is closer to 98%!
In tandem with the BSF we've been using Spam Assassin as a second tier spam processor . By default Spam Assassin is disabled in your cPanel. Feel free to enable it and if you wish, turn on auto-delete. In a nutshell the BSF -Barracuda Spam Firewall is set to automatically remove all spam with a score of 3.8 or higher. In Spam Assassin I recommend setting a spam score of 5 [the higher the # the more conservative] at first and live with that for a week or so to see if any legit mail goes missing. You can then experiment with a lower setting…
I am so pleased with the effectiveness of the BSF -Barracuda Spam Firewall I just can't tell you, hope you have had the same reaction…
Sick computer? Need some training in Photoshop or WordPress or just on your computer to learn how to leverage it to work for you instead of the other way around?
Download TeamViewer here https://www.teamviewer.com/en/download Pick Windows or Mac and download the All-in-One full version
Install it and take all the default options for personal/non-commercial use, choose normal installation… click next… It varies but a little intuition ought to get this installed in less than 2 minutes.
No one else will ever be able to log into your computer without you being there and allowing it –including me. When you run the program it opens up and displays a "Your ID #" and a password, you will need to feed those to me before I can log in. Leave it open, the password –unless you assigned one during the install, will change every time you restart TeamViewer. It will burrow right past your router and through your firewall and I will be able to work on your problems without having to drive over there… Perfecto!
Gill
808.878.3625
Softaculous
Softaculous is a great Auto Installer having 322 great scripts, 1115 PHP Classes and we are still adding more. These scripts cover most of the uses a customer could ever have. We have covered a wide array of Categories so that everyone could find the required script one would need to power their Web Site.For futher details of all the scripts you'll have access to click here.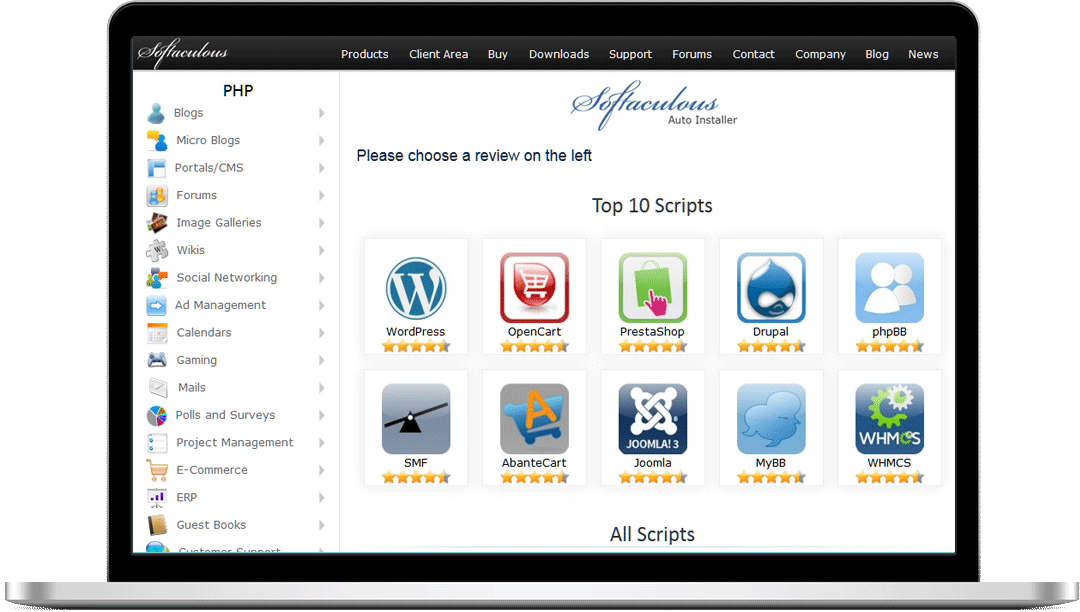 Let's get this party started!
Give us a call and let's get you on-line with a new website today!
808.878.3625
"*" indicates required fields